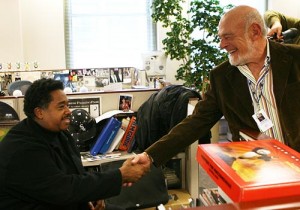 (Chicago Tribune photo of Terry Armour shaking Sam Zell's hand by Charles Osgood / December 20, 2007)
The Chicago Tribune has communicated that Terry Armour has passed away. This is both sad and shocking as Terry Armour was so relatively young and full of life in every thing that he did. You can see how much he was loved by his coworkers and the public so clearly in the stories readers have told.
Chicago Blackhawks beat writer Chris Kuc discusses Terry's universal appeal:
People knew him by sight, and if they didn't, they instantly recognized him as soon as they heard his distinctive voice. And Terry enjoyed that. He relished being recognized and loved talking with people, whether he knew them or was meeting them for the first time. Sitting with Terry in the Stadium Club during a Sox rain delay would bring a steady stream of admirers by the table, ranging from celebrities to fans to concession-stand workers. It prompted me to once ask him, "Is there anyone you don't know?" He said, "I don't think so."
These tributes are emotional and show his personality. But they miss his most under appreciated quality – encouraging interaction with people, listening to their thoughts and creating stories from these interactions. He lived user generated content long before the term was fashionable. My favorite experience with Terry was in 2003. I had breakfast with a friend and his column that day asked for people to send in thoughts on their favorite horror flick of all time. I jokingly said to my friend "Cubs NLCS Series 2003" (the year of Steve Bartman). My friend said, "You should email that answer in to Terry". What you see below is the email thread (read it from the bottom up) where he eventually joked that I was trying to take his job!
Date: Mon, 20 Oct 2003 16:54:21 -0500 [10/20/2003 05:54:21 PM EST]
From: "Armour, Terry" <TArmour@tribune.com>
To: Me
Subject: RE: Favorite horror flick
Headers: Show All Headers

jeez, what are you trying to do, take my job? funny stuff. i've got to get
the sequel stuff in there, too.

—–Original Message—–
From: Me
Sent: Monday, October 20, 2003 4:52 PM
To: Armour, Terry
Subject: RE: Favorite horror flick

Finally, you already know that there is a sequel in the making…FOR
SURE…you just have no idea when or where it will appear on your screen…

OK, that's it, I'm done with that, it's taken it's full course.

Quoting "Armour, Terry":

boom shakalaka, thanks d……..

—–Original Message—–
From: Me
Sent: Monday, October 20, 2003 4:42 PM
To: Armour, Terry
Subject: RE: Favorite horror flick

"Why create fiction when reality is far more frightening?"

(just so you have my reasoning down) 🙂

Quoting "Armour, Terry":

ha ha ha ha ha ha ha ha ha ha ha ha ha ha ha ha…..dude, this rocks. you
made it. you will be in on sunday. christ, that's pretty effing funny.

—–Original Message—–
From: Me
Sent: Monday, October 20, 2003 4:36 PM
To: Armour, Terry
Subject: Favorite horror flick

Cubs NLCS Series 2003
The article which he eventually printed that I can't seem to find online (maybe the Tribune can help out) but I remember it saying "Let it go, Dave. Let it go." as a mocking reference to the Cubs and Steve Bartman. That friend who asked me to email Terry still says "Let it go, Dave. Let it go." to me about things all the time! It's my most personal interaction with Terry, but it's where I noticed how he turned to others to create user generated content. I noticed this pattern of user contributions in so many of his future articles. So my friend, I thank you for your contributions and let you go onto that great newspaper in the sky…